{service.name}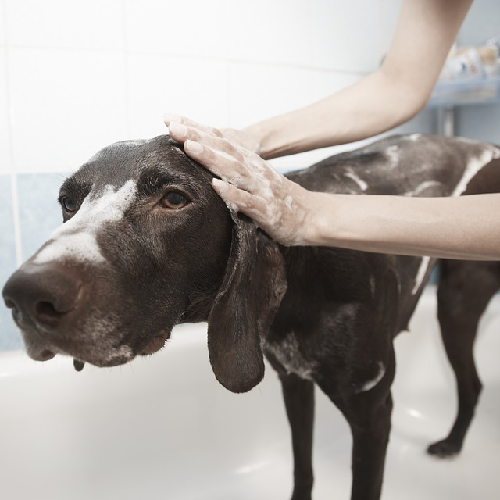 Self-Serve Dog Spa
What to do with a dirty dog?
Clean him up in our self-serve dog wash! We feature three waist high spa tubs with easy walk up steps. We'll show you how to give your beloved pooch a professional bath using natural spa quality dog shampoo and conditioners. Every dog gets a facial with your choice of Mango Foaming Wash or South Barks Blueberry Facial. We'll help you choose from eight different types of natural based professional pet salon shampoos to find the one suited for your friend's coat and skin. Our professional sprayers will get your pet's fur deep down clean and our water is set at the correct temperature for your pets safety and comfort. Towel off your pet with our fluffy towels then use our no heat pet dryers to get your friend nice and dry. Best of all leave the big hairy mess for us to clean instead of trashing your bathroom at home!
No appointment is necessary to use our self-serve dog wash. Last bath no later than 1 hour before closing time.
Join our Frequent Wash Club and get every 7th wash free. Offer applies to self-serve only. Ask for details in store.
Adopted dogs from a shelter or rescue are eligible for one free bath within one month of the adoption date. Simply bring in your paperwork to receive your free self-serve wash. Offer applies to self-serve only.
Aprons are provided for dog wash customers. Tubs are sanitized after each use for your pet's health and safety.
Pricing
Small Dogs under 20lbs: $14.00
Medium Dogs 21lbs - 49lbs: $16.00
Large Dogs over 50lbs: $18.00
XL Dogs over 120lbs: $24.00 (also applies to excessive coat breeds such as Samoyed, Collie, St Bernard, Bernese Mountain Dog, etc.)
Add-ons:
Nail-Trimming: $12.00
*Please call ahead to confirm Nail Technician availability*
Additional services are available.
*Our Self-Serve Dog Spa is ADA compliant. If you have a service dog and need assistance please let us know and we will be happy to help you. Service dogs receive a 10% discount.
Is your pet's favorite flavor on sale this month?  For October Fromm has a special offer! Duck & Chicken Pâté for Dogs and Duck À La Veg Pâté for cats $1 off *Prices good now through 10/31/19. Not good on previous...
Valid: 10/01/2019 - 10/31/2019
Offered By: All Things Woof Meow, Too Inc.